A bit of history:
Last fall, I was having idling issues with my 084 when tipped on one side. Traced it to slight leakage from a crank seal, so I replaced both. Seemed to be OK after that. A few weeks ago, I was using it to take off a 4' stump from a clump of 10 maple trunks. I have been using Stihl Moto Mix in that saw and cracked open a brand new can that morning. Saw died at idle on the same side again, wouldn't restart initially. Restarted after sitting a couple of minutes, but died when idled on it's side again. Wouldn't restart thereafter. Used MotoMix from the same can in an MS261CM and also had sudden idling issues with that saw. I've been wondering if there was a problem with the fuel.
On investigation, compression was down to 60 psi. Scoring on the cylinder walls visible through the spark plug hole and on the piston through the exhaust port. Ordered a "Cross Performance" cylinder kit, based on some good reviews here. Kit arrived yesterday.
Before dissassembly I did a vacuum test via the impulse line. Initially I had a slow bleed down, which I traced to the decompression valve via a pressure test. A light daub of transmission assembly grease (really sticky grease) on the valve seat cured that and thereafter it held 10inHg for 10 minutes, including 8 or 10 pulls of the starter cord.
This morning I installed the kit. Looks like decent stuff. Maybe a touch more casting flash on the cylinder than OEM, but certainly not like some Chinese cylinders I've seen. Advertised as Nikasil plated; very light honing marks visible. Piston looked very nice. Came with Caber rings as well as an exhaust gasket, piston pin, bearing and clips. Had to supply my own base gasket though.
I wiped the cylinder wall with 2-stroke oil before assembly. Made sure the arrow was pointing to the exhaust port. 120psi compression on assembly, before any break-in runs. Took 2 jerry cans to the gas station; put 1L in one can to flush the hose of regular and filled the second can with 10 liters of ethanol-free premium fuel after dumping in 200mL of Amsoil Saber Professional 2-stroke oil. Dumped out the remaining MotoMix and refilled with the 50:1 premium.
Saw started right up and idled perfectly, 360° of rotation. I fattened the H slightly so it was just 4-stroking at WOT. Alternately let it idle and blipped the throttle for a couple of minutes, before trying it in wood -- a 30" maple. I made 1 cut at a time, allowing it to idle for a minute or two between cuts. There was an occasional 4 stroke burble in the wood. After a total of 4 cuts, I shut it down and let it cool for a few hours.
Once cooled down, I went at it again. First cut I didn't touch the mix. Between cuts I leaned it out slightly -- 1/8 of a turn or less. Second cut there was no 4 stroking, so I left the mix alone thereafter. It still idled perfectly, 360° rotation. Third cut seemed same as the first two, but it died and would not restart instead of idling. Pulls over easily without touching the decomp. Compression down to 50 psi. This is what I found: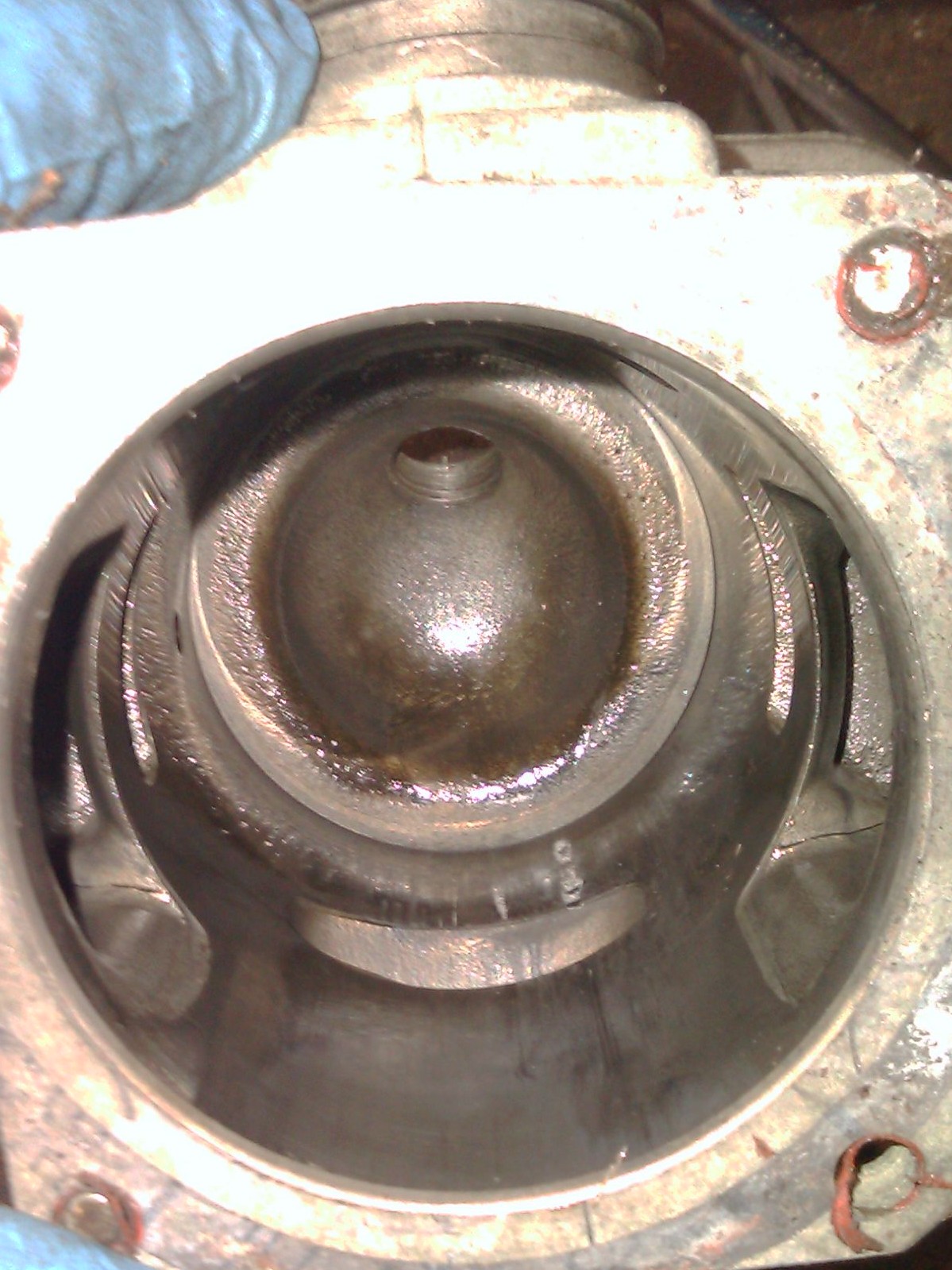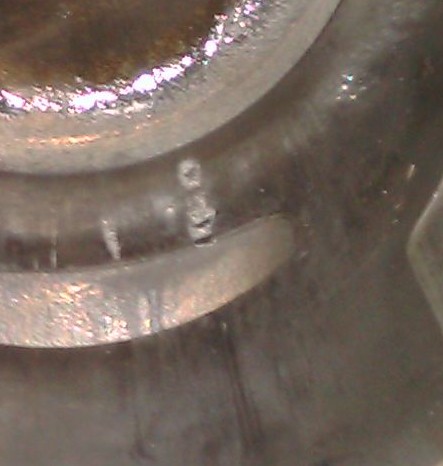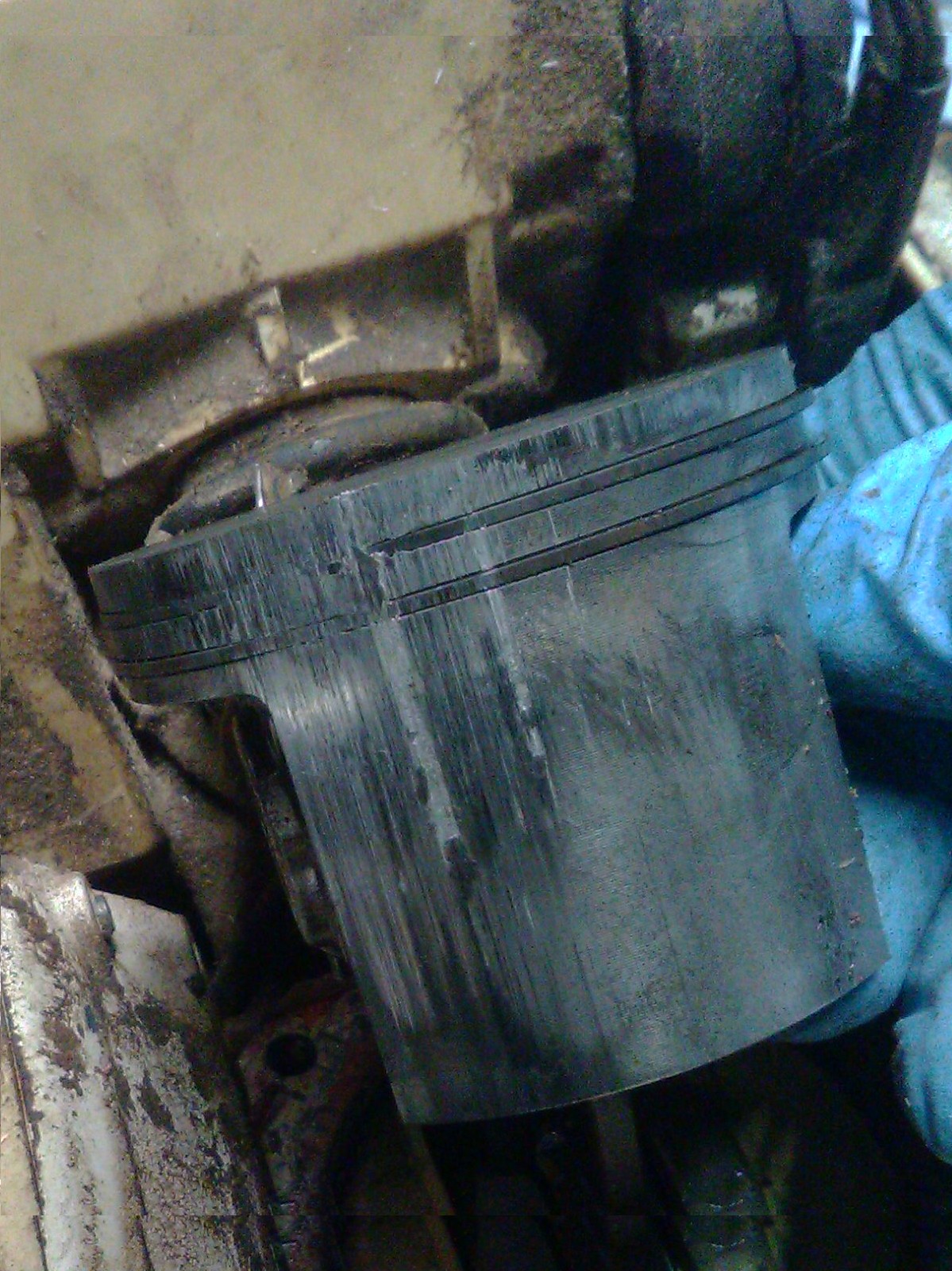 Any theories as to what went wrong here???